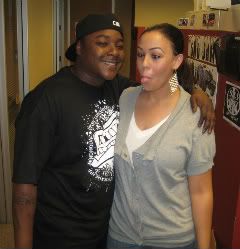 First of all...The last kiss is one of my favorite albums of the year which already made me like Jada. But to find out mid interview that he loves the West Coast and gets Pro Club's imported to NY from the Slauson Swapmeat? Yah, its official. Jada is one of my favorite people now. We had a ball during this interview. Got the background on the new album, Advice on how to move on from beef, and news of a D-Block west to kick off next year. Jada gets it in. Pop the hood for more.
Out takes: Jada learning about the jerk movement and saying that the kids that jerk must not have bones in their bodies. *Dead*
Click more to watch video interview, share & comment!